Save money with our Six Pack Special!
When you buy 5 tickets in one sale, you get a 6th ticket (valued at $12) for free! Simply add 6 tickets to your cart and use the promo code BOUQUET when checking out.
Young & Wild
Joven y Alocada
directed by Marialy Rivas
Daniela, an attractive and enterprising teenager raised in an affluent, devout Christian family in Santiago, Chile, is also secretly the author of "Young and Wild," a racy sex blog that exposes the adventures of her "pussy in flames" to a wide underground fan base. If only her family knew just how far her irrepressible libido has taken her…
Expelled from school for her sexual exploits, Daniela finds a job at a Christian TV network. Soon, a bisexual love triangle unfolds. But who is more fun to play with: handsome, pious supervisor TomÁs or co-worker sultry Antonia? Of course, Daniela learns that trying to have it all—love, sex, eternal salvation—can be terribly complicated.
Based on the real-life blog (JovenyAlocada.com) of lesbian cowriter Camila GutiÉrrez, who won a screenwriting award at the Sundance 2012 Film Festival, the film uses enthralling, sexy graphics and on-screen text to complement the story. Alicia RodrÍguez is spectacular as the self-absorbed Daniela, managing to be realistic while maintaining an irresistible charm.
Crisp photography and dynamic editing lend the film a playful sexual tone that intercuts scenes of Daniela's "body trembling with filth" during stolen moments of self-pleasuring with exciting, awkward first encounters. Stylistic, provocative, and altogether riotous, Marialy Rivas's debut feature YOUNG AND WILD deftly captures the tensions between raging hormones and repressive religion.
Copresented by Scarleteen
ASL Interpreting before subtitled film
Contains explicit sexuality
Run time: 96 min. | Chile | 2012
Genres: Drama
Directed By: Marialy Rivas
Tickets & Schedule
Sunday, October 21
6:30 pm 10/21

at

AMC Pacific Place


600 Pine Street
Seattle, WA, 98101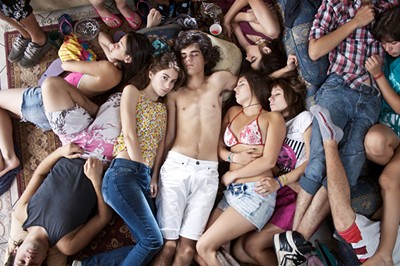 Young & Wild
Films
Marialy Rivas | 96 min.